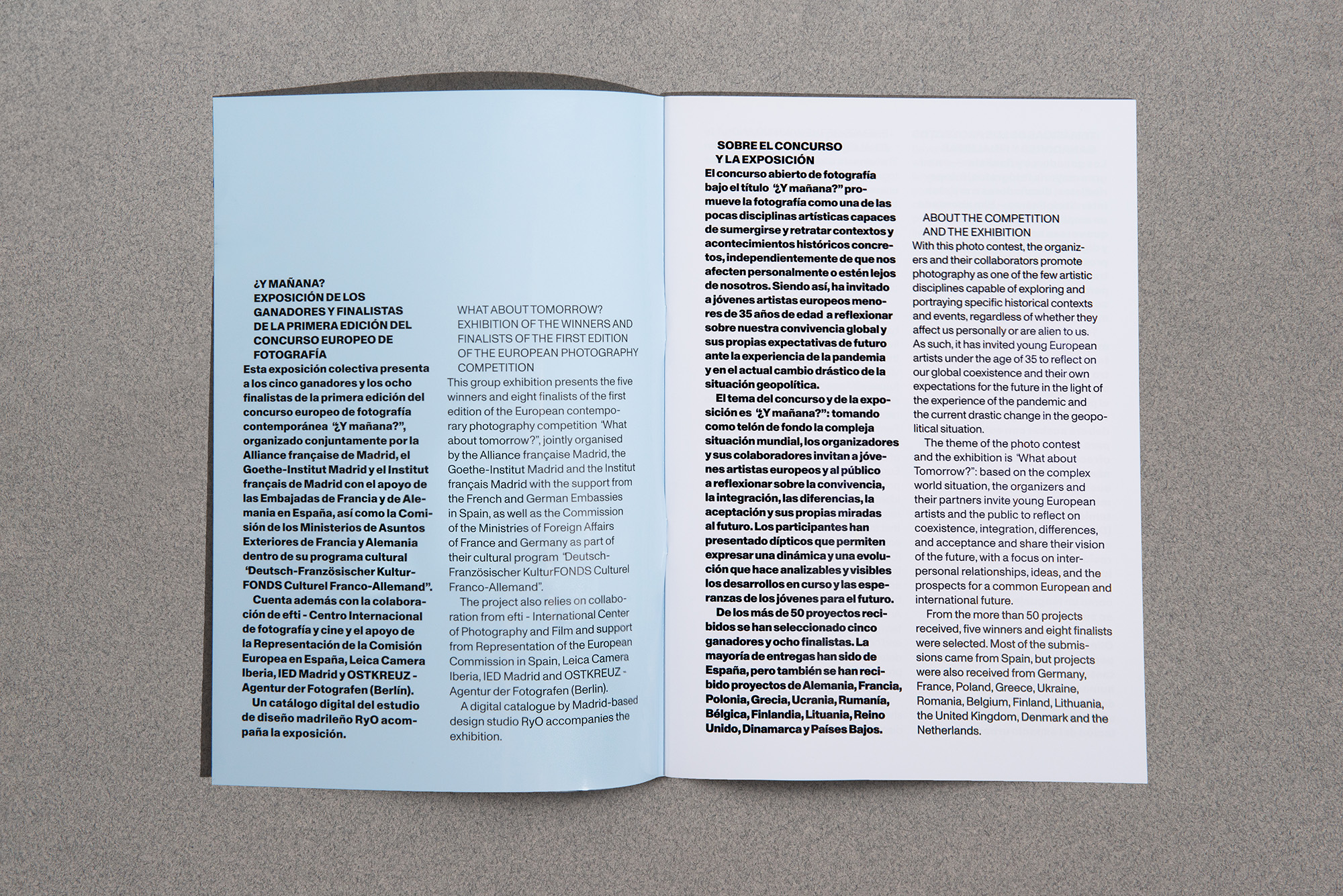 Diseño gráfico del catálogo
¿Y mañana?
para el Concurso Europeo de Fotografía 2022. Con este concurso fotográfico, los organizadores y sus colaboradores quieren promover la fotografía como una de las pocas disciplinas artísticas capaces de sumergirse y retratar contextos y acontecimientos históricos concretos, independientemente de que nos afecten personalmente o estén lejos de nosotros: la fotografía artística y arquitectónica como testimonio del tiempo, la fotografía de naturaleza, la fotografía de calle o el fotoperiodismo que informa sobre guerras, acontecimientos históricos, políticos y culturales, e incluyendo el contexto de la actual pandemia y la compleja situación política mundial y sus medidas y consecuencias.
El tema del concurso fotográfico es
¿Y mañana?
: basándose en la experiencia de la pandemia y en el actual cambio drástico de la situación geopolítica, los organizadores y sus colaboradores invitan a jóvenes artistas europeos que reflexionen sobre la convivencia, la integración, las diferencias, la aceptación y compartan así sus miradas al futuro, centrándose en las relaciones interpersonales, las ideas y las expectativas de un futuro común europeo e internacional.
El catálogo se acompaña de unas libretas con las fotografías de los 5 ganadores en en cubierta.
Graphic design of the catalogue
What about Tomorrow?
for European Photography Competition 2022. With this photo contest, the organizers and their collaborators aim to promote photography as one of the few artistic disciplines capable of exploring and portraying specific historical contexts and events, regardless of whether they affect us personally or are alien to us: artistic and architectural photography that bears witness to the passage time, nature photography, street photography or photojournalism reporting on wars, historical, political, and cultural events, and all this in the context of the current pandemic and the complex global political climate, its measures, and its consequences.
The theme of the photo contest is
What about Tomorrow?
: based on the experience of the pandemic and recent drastic changes in the geopolitical context, the organizers and their collaborators invite young European artists to reflect on coexistence, integration, differences, and acceptance and share their vision of the future, with a focus on interpersonal relationships, ideas, and the prospects for a common European and international future.
The catalogue is accompanied by notebooks with the photograps of the 5 winners on the cover.



Cliente/Client
Goethe-Institut Madrid,
Alliance Française Madrid
,
Institut français Madrid
Año/Year

2022
Tipografía/Typography
Dinamo Galapagos
,
Dinamo Monument Grotesk
Papel/Paper
[Catalogue]
F
edrigoni symbol freelife gloss premium white 200g/m2
,
Fedrigoni symbol freelife satin premium white 130g/m2
[Notebook]
Coated satin 300g/m
2
, Offset recycled 80g/m
2
Método impresión/Print method
[Catalogue]

Ófset 1/1+laminado brillo (cubierta), Ófset 4/4(interior) /Offset 1/1+glossy lamination (cover), Offset 4/4 (inside)
[Notebook]
Ófset 4/1+glasofonado seda(cubierta), /Offset 4/1+soft touch lamination (cover),
Encuadernación/Binding

[Catalogue]
Cosido con grapa/Stapled
[Notebook]
Cosido hilo pasaporte/Stitch passport